Sustainable Agricultural Development Project-Minya
In the light of Sawiris Foundation for Development's belief in developmental programs and the significant role such programs play in unifying community members, and Together Association for Development and Environment's belief in proper planning and impactful implementation, and with the fruitful cooperation with the Egyptian Foundation for Integrated Development (Al-Nida Foundation) in Cairo, the partner who provided technical support for the project. Implementation of the sustainable agricultural development project in Minya governorate, located in the village of Al-Azima 5, west of Samalut, which aimed to provide a better economic and development environment for the families of the martyrs of Libya (20 families) and their families in the Samalut  in the villages of (Al-Awar, Menbal, Al-Gebali, Al-Sobi, Daqouf, Samsoum, Dafash) in Minya governorate.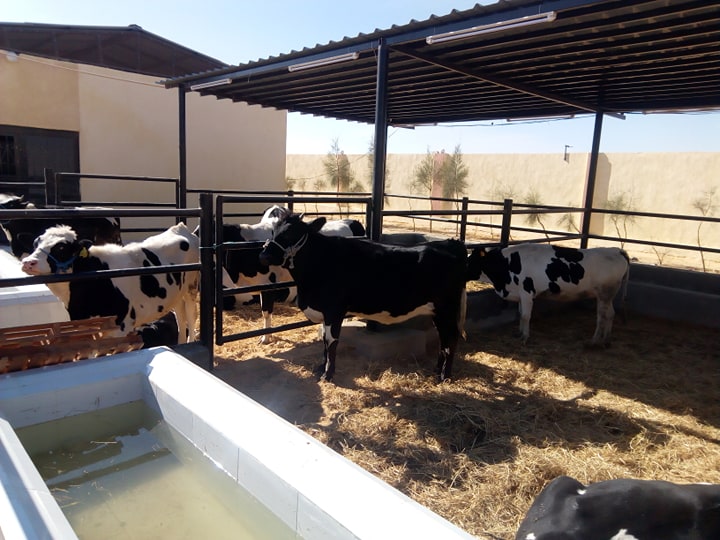 The project activities also included the following:
Safe home raising of poultry: which was done by supporting each family with a poultry cage containing 90 chickens produce eggs (table egg production). This is in addition to allocating field visits by specialists, whether agricultural engineers or veterinarians to explain how to deal with the poultry cage and its maintenance and the proper feeding methods for poultry to get the best egg production rates in order to raise the economic and living standards of families, especially women, and enable them economically to obtain a safe and fruitful project to raise their children. The first phase of this component has been completed and coordination is underway to create a large ward that includes poultry cages on the project land in the future.
A multi-animal production farm project: which is a multi-animal production farm project on an area of ​​10 acres divided into two areas:
The first area: the animal farm and manufacturing units on an area of ​​5000 M2 including raising wards for milking cows and cattle, and wards for Shami goats on an area of ​​450 M2, all of which are milk-producing strains. The farm also has a unit for the manufacture of milk, a unit for mixing and storing fodder, and a mobile milking unit. And also wards of cattle care to a unit for the production of biogas and also a unit for water purification (with a capacity of 10 m3 per day). There is also a veterinary clinic attached to a room for isolating infected animals and two rooms for workers and guard.
The second area: on the rest of the area, which is a vegetable farm, an area of ​​8 acres of which was planted with Hijaz alfalfa and about one and a quarter acres of bunicam, which is included in the program of feeding the animal herd on the farm, the entire farm was surrounded by a wall of gasoline and olive trees, which act as windbreaks and a safety method to protect the farm. Pick-up car project for the transfer and marketing of all farm products, whether dairy or animal products, all of this is within the useful and fruitful projects that will serve the martyrs' families and raise their economic and living standards.
We believe in promoting people's action, individual and collective, local, national and international, to tackle the environmental challenges we face.